Midwest flat rolled prices continued the rally that began at $365/st in December, 2015.  After correcting 10% from the $660 high set on March 20th, 2017, the TSI Daily Midwest HRC Index has bounced off a low of $591 closing the week at $598.  The rebound is largely due to a mix of price hike announcements kicked off by California Steel on Friday, June 2nd and the pending uncertainty of the Section 232 Investigation into the steel industry.
Grounded in the conclusion that Midwest HRC prices have been in a multi-year bull market, the "buy the dip" theme discussed since January remains intact as fundamental data continues to be constructive.  President Trump announced that legislation resulting from the Section 232 Investigation is coming "very soon," which could add more fuel to the nascent next leg of the rally.
We see the following data points as the foundation of our current view:
Persistently low flat rolled inventory evidenced in the MSCI, ISM and Durable Goods reports
A rebounding US energy industry
A global uptrend in manufacturing purchasing managers indexes
The Section 232 Investigation into steel   
Relatively low HRC imports with trade restrictions
The strongest reaction to last week's developments was seen in the jump in the CME Midwest HRC futures curve.
​
The front of the CME Midwest futures rebounded sharply with June up $25 to $600, July up $37 to $604, August and September both up $35 to $602 and Q4 2017 up $28 to $598. The first half of 2018 was up $24 to $598.
One major cornerstone to our bullish view is the historically low flat rolled inventory levels across the steel and manufacturing industries.  Similar to the rationalization seen in the steel industry during the most recent downturn, flatbed trucking firms also curtailed supply which has resulted in increased tightness as shown in the "Flatbed Load-to-Truck Ratio" chart below. 
​
Source: DAT.com
The evolution of this tightness and how it affects availability is very interesting. If availability becomes a major issue, then this could lead the supply chain to collectively shift its inventory management strategy to a higher level of inventory on-hand and therefore a restocking event.
June CME HRC Futures vs. TSI Daily Midwest HRC Price
​
HRC indexes moved mostly lower.  CRU CRC fell $19 to 788.
​
The TSI ASEAN HRC price was down $4 to $405/st. while the North European HRC price was down $9 to $525/st.​

The import uptrend looks to be slowing in May.​

Tube imports have exploded this year.
​
US price differentials (vs. R.O.W.) were mostly flat.      
Below are HRC, CRC and HDG prices and differentials using pricing from SBB Platts.  Differentials have flattened since peaking in April.
​
Chinese prices were mixed, while South European HRC was down 2% and Middle East Import HRC was up 3%.​

Chinese domestic CRC fell 3%, South Europe slipped 1.6%, while Russian CRC gained 1.6%.​

European HDG prices fell sharply, while Middle East Import HDG gained 3%.​


AISI Steel Capacity Utilization Rate and TSI Daily HRC Price
​
AISI capacity utilization fell incrementally to 75%.   
​
Iron ore prices were down again.
​
Scrap was mixed with East Coast shred and Turkish scrap up 1% while Midwest shred fell 3%.  The IODEX fell 4.4% to just under $55.  Australian coking coal continued lower while Black Sea pig iron was down 2%.​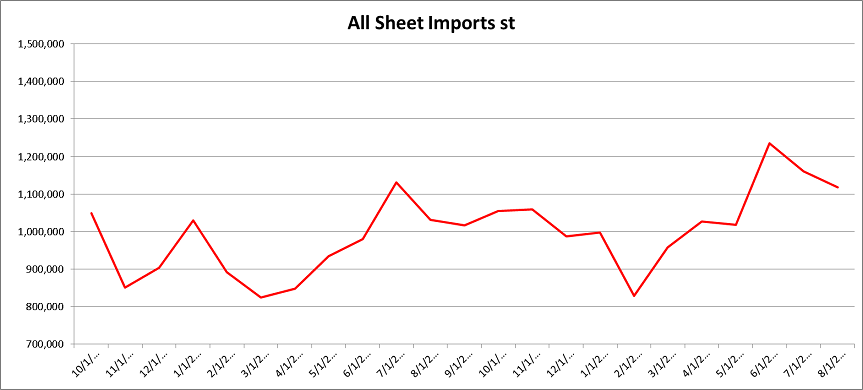 The iron ore curve has flattened as prices have fallen off in the past month.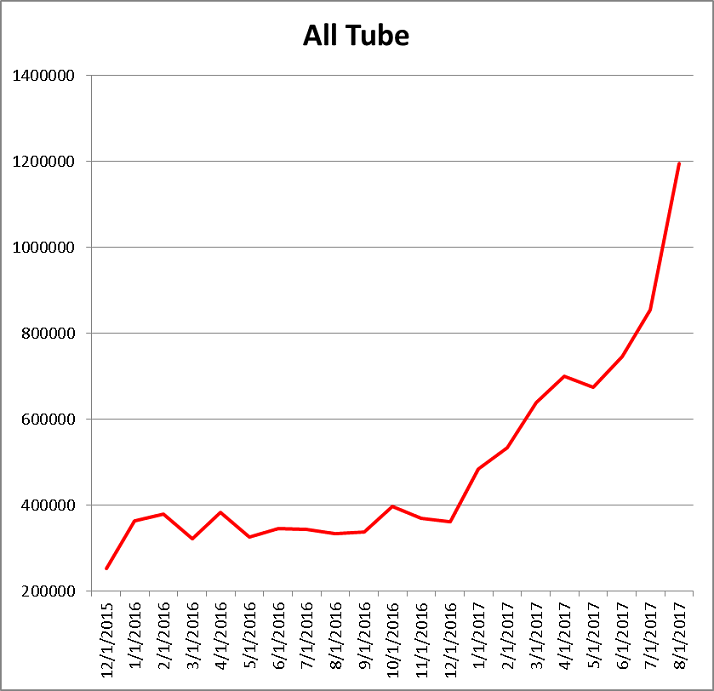 Black Sea billet gained slightly while North European and Turkish rebar each were lower.
​
The final April Durable Goods Report showed mixed revisions with new orders revised 0.1% lower and capital goods orders revised 0.1% higher.  April factory orders were down 0.2% while factory orders ex-transportation gained 0.1%.  April wholesale inventories fell 0.5% MoM.  The ISM Nonmanufacturing Index fell to 56.9 and missed expectations. 


The S&P 500 took a breather.  The Chinese stock market continues to rebound from their late spring sell-off.
​
S&P 500
​
China CSI 300
​
Steel stocks were up with the price increase announcements and anticipation of the legislation resulting from the 232 investigation.​

US Steel
​
Iron ore miners were mostly higher.
​
Copper had a great week rallying almost $9 in two days and broke out of its 3.5 month downtrend.  Aluminum gave back 1.24%.
​
July CME Copper Futures
​
The dollar rebounded back above 97.  Big gains were seen in the Mexican peso and the Australian dollar gained over 1%.  The British pound slipped 1.1% after Theresa May's call for a snap election backfired resulting in the Tory party losing a number of seats and cost the conservative party their majority.  The Brazilian real slipped 1.6%.
​
US Dollar Index
​
Mexican Peso
​
Australian Dollar
​
Brazilian Real
​
A rebounding energy industry
​
WTI crude oil prices fell almost 4% to $45.83/bbl, while the rig count added 11 rigs to 927.  Inventory levels were up across the board.  Crude oil production slipped marginally.  Natural gas gained 1.3% to $3.04/mbtu.
July WTI Crude Oil Futures
​
Aggregate Energy Inventory (Blue) vs. WTI Crude Oil Futures
​
D.O.E. Crude Oil Inventory
​
D.O.E. Crude Oil Inventory Perspective (1982 – Present)
​
Baker Hughes US Rig Count
​
D.O.E. Crude Oil Production
​
D.O.E. Crude Oil Production Perspective (1983 – Present)
​
The US 10 year yield rallied to 2.2%.  Rates were under pressure in Europe and unchanged in Japan.
​
U.S. 10 Year Bond Yield
​
The list below details some upside and downside risks relevant to the steel industry.  The bolded ones are occurring or look to be highly likely.  Upside risks look to be in charge.
Upside Risks:
–        Section 232 Investigation
–        Low inventory levels/domestic or global restocking
–        Flatbed trucking availability
–        China pumping up its "old economy"
–        Energy industry rebound
–        Weaker dollar
–        Border adjustment tax
–        Big rally triggered by price increases/low inventory/restocking
–        President Trump's agenda
–        Infrastructure bill/long-term solution to highway spending bill
–        China getting serious about curtailing steel production
–        Transportation supply constraints
–        Post-election economic pick up
–        Unplanned domestic supply side disruptions
Downside Risks:
–        Political uncertainty – Reflation trade reversing
–        Increasing oil and iron ore inventory levels
–        Sharp and persistent drop in oil and iron ore prices
–        Automotive industry under pressure
–        US domestic producers bringing back on capacity
–        Higher interest rates slowing residential construction and auto sales
–        Tightening financial conditions pressuring auto sales driven by sub-prime financing
–        Chinese restrictions in property market
–        The Chinese Financial Crisis
–        Unexpected sharp China RMB devaluation
–        Rebound in import volumes
–        Increasing import differentials
–        US dollar rally/currency issues/sovereign default
–        Falling ferrous raw materials and global finished steel prices
–        Economic downturn, especially in China or Europe reverberating to U.S.A.
–        Weak demand in housing or automotive