Steel prices in the physical market continued to increase this week as hesitant buyers are reentering the market to start filling holes in their inventories. For market participants who are more plugged into the weekly headlines, this week's upward momentum likely feels relaxed compared to the shock and volatility of the last 30 days. This overall sense of stabilization can be seen more acutely in the forward market, which reacted first to the severe upside risk several weeks ago and has now spent the past week and a half waiting for the physical market to catch up. Now that prices have consolidated around $1,400 and there is a moment to reassess the landscape, let's look at what has happened over the last month.
From the bottom to now, all the assessed spot prices have increased by at least 30% off their recent lows, which is a record monthly increase for each of them. But that is old news, the most important question for this nascent rally is what comes next. Part of the problem in forecasting today's upside risk is that the traditional leading indicators which participants lean on are going to be less reactive to current forces. This is most pronounced with lead times. In the beginning of a rally, buyers closely watch lead times – if they extend, it signals full order books and acceptance of higher prices from the community at-large. This increases the urgency to buy more before prices increase further. For example, in the previous rally, by the time the price got up to $1,400 HRC lead times were nearly double what they are today. In this case, lead times (which have slowly begun to extend), have very little, if anything, to do with raw material availability and pricing. Yet, problems around scrap availability and pricing are undergoing a paradigm shift and among the main reasons that recent price announcements were universally accepted.
At the same time, mills, particularly EAF's, are in a difficult position here. Once the general market realizes the severity of mills' issues related to their scrap blend and input costs, many buyers are going to panic and attempt to buy anything they can get their hands on, which will in-turn cause mills to run out of their current inventory of cheap pig iron and busheling at a faster rate. So, from the mill perspective, they are tasked with rapidly raising steel prices before restocking on expensive scrap, without spooking the market – so far, so good. Part of what is playing in their favor is that domestic scrap does not appear to be at risk of a shortage. Pig iron on the other hand, is a significant problem. With Russia and Ukraine no longer in the production and export market, there simply is not going to be enough pig iron available to satisfy global demand. This will lead to mills stretching their blends as thinly as possible as they look for another solution, which meaningfully increases the risk of unplanned maintenance outages. Concern around raw material shortages drove steel prices to their current levels in record time. The upside risk in the coming weeks is that the global raw material shortage materializes and causes mills to make up for a revenue shortfall by increasing prices while being forced to produce fewer tons.
Below are the most pertinent upside and downside price risks:
Upside Risks:
Inventory at end users and service centers below normal operational levels
Higher share of discretionary income allocated to goods from steel intensive industries
Changes in China's policies regarding ferrous markets, including production cuts and exports
Unplanned & extended planned outages, including operational issues leaving mills behind
Energy & construction industry rebound
Easing labor and supply chain constraints allowing increased manufacturing activity
Mills extending outages/taking down capacity to keep prices elevated
Global supply chains and logistics restraints causing regional shortages
Downside Risks:
Increased domestic production capacity
Elevated price differentials and hedging opportunities leading to sustained higher imports
Steel consumers substitute to lower cost alternatives
Steel buyers and consumers "double ordering" to more than cover steel needs
Tightening credit markets, as elevated prices push total costs to credit caps
Supply chain disruptions allowing producers to catch up on orders
Limited desire to restock at elevated prices, causing a "Buyer's Strike"
Economic slowdown caused by the emergence of Coronavirus Variants
All of the below data points are as of March 25, 2022.
The Platts TSI Daily Midwest HRC Index rebounded significantly and was up another $80 to $1,380.
Platts TSI Daily Midwest HRC Index

The CME Midwest HRC futures curve is below with last Friday's settlements in white. The entire curve shifted slightly higher this week.

April ferrous futures were mixed. Aussie coking coal lost another 19.3%, while Turkish scrap gained 6%.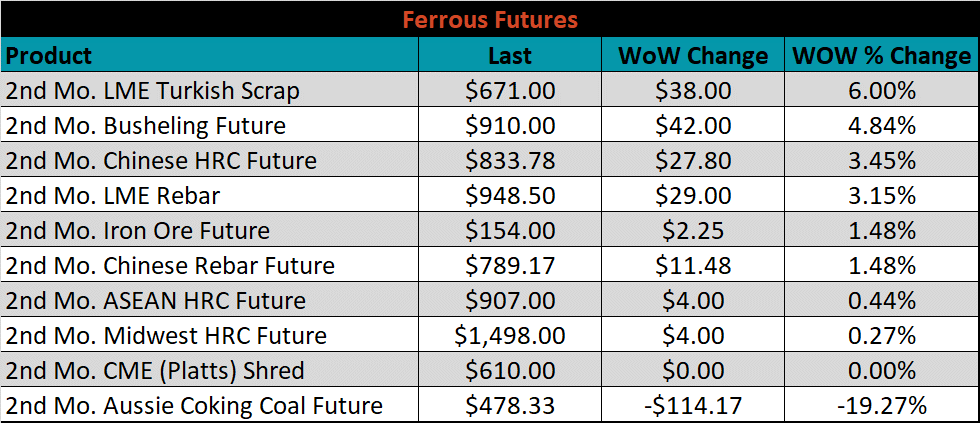 Global flat rolled indexes were mostly higher. Black Sea HRC was up 17%, while Northern European HRC was down 3.7% from a still significantly elevated level.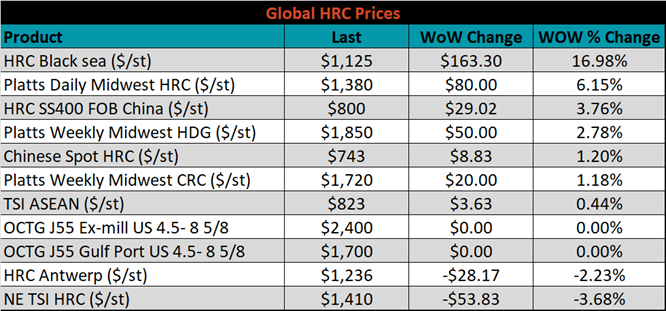 The AISI Capacity Utilization was up 0.2% to 80.2%.

AISI Steel Capacity Utilization Rate (orange) and Platts TSI Daily Midwest HRC Index (white)

March flat rolled import license data is forecasting an increase of 268k to 1.07M MoM.
All Sheet Imports (white) w/ 3-Mo. (green) & 12-Mo. Moving Average (red)

Tube imports license data is forecasting an increase of 232k to 601k in March.
All Tube Imports (white) w/ 3-Mo. (green) & 12-Mo. Moving Average (red)

All Sheet plus Tube (white) w/ 3-Mo. (green) & 12-Mo. Moving Average (red)

March AZ/AL import license data is forecasting an increase of 11k to 101k.
Galvalume Imports (white) w/ 3 Mo. (green) & 12 Mo. Moving Average (red)

Below is March import license data through March 22nd, 2022.




Below is the Midwest HRC price vs. each listed country's export price using pricing from SBB Platts. We have adjusted each export price to include any tariff or transportation cost to get a comparable delivered price. Global differentials increased again this week, as the U.S. price continues to rally.

SBB Platt's HRC, CRC and HDG pricing is below. The Midwest HRC, HDGs & CRC prices were up 6.2%, 2.8%, and 1.2%, respectively. Outside of the U.S., Mexican HRC rose the most significantly, up 6.6%.



Raw material prices were mixed, with the April iron ore future gaining 1.5%, while Aussie coking coal was down 19.6%.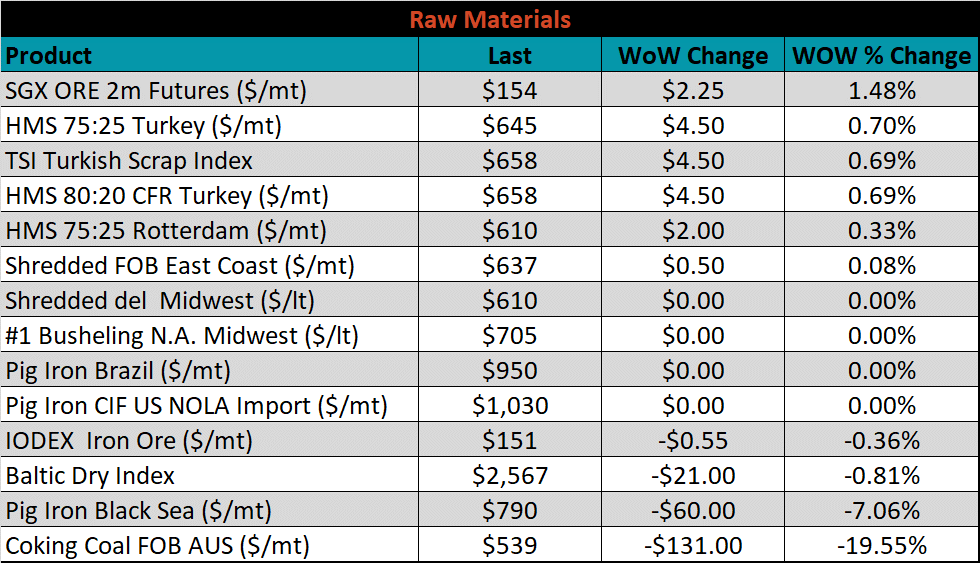 Below is the iron ore future curve with Friday's settlements in orange, and the prior week's settlements in green. Last week, the curve from April on shifted higher, more significantly in the back of the curve.

SGX Iron Ore Futures Curve

The ex-flat rolled prices are listed below.


Last week, the April WTI crude oil future gained $9.20 or 8.8% to $113.90/bbl. The aggregate inventory level was down 1% and crude oil production remains at 11.6m bbl/day. The Baker Hughes North American rig count was down 29 rigs, and the U.S. rig count was up 7.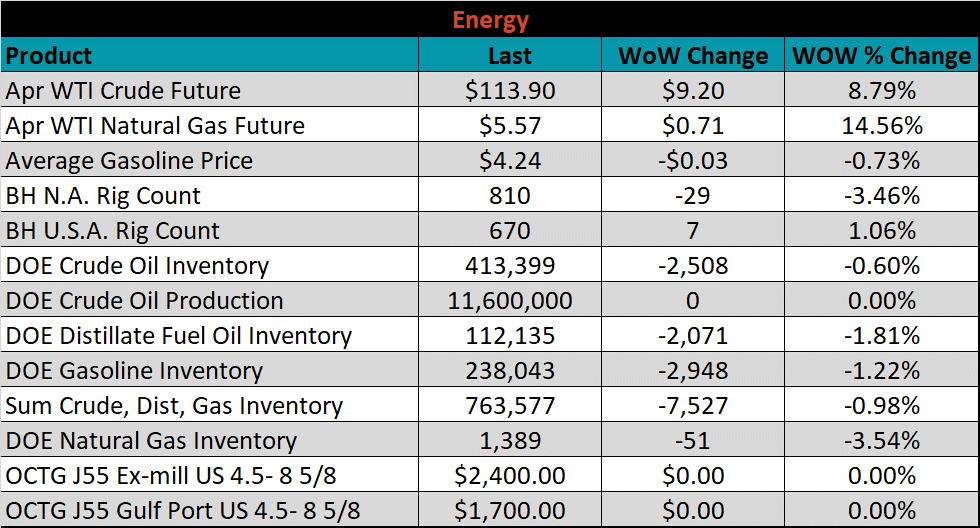 April WTI Crude Oil Futures (orange) vs. Aggregate Energy Inventory (white)

Front Month WTI Crude Oil Future (orange) and Baker Hughes N.A. Rig Count (white)

The list below details some upside and downside risks relevant to the steel industry.  The bolded ones are occurring or highly likely.
Upside Risks:
Inventory at end users and service centers below normal operational levels
Higher share of discretionary income allocated to goods from steel intensive industries
Changes in China's policies regarding ferrous markets, including production cuts and exports
Unplanned & extended planned outages, including operational issues leaving mills behind
Energy & construction industry rebound
Easing labor and supply chain constraints allowing increased manufacturing activity
Mills extending outages/taking down capacity to keep prices elevated
Global supply chains and logistics restraints causing regional shortages
A weakening US Dollar
Fiscal policy measures including a new stimulus and/or infrastructure package
Fluctuating auto production, pushing steel demand out into the future
Low interest rates
Threat of further protectionist trade policies muting imports
Unexpected and sustained inflation
Downside Risks:
Increased domestic production capacity
Elevated price differentials and hedging opportunities leading to sustained higher imports
Steel consumers substitute to lower cost alternatives
Steel buyers and consumers "double ordering" to more than cover steel needs
Tightening credit markets, as elevated prices push total costs to credit caps
Supply chain disruptions allowing producers to catch up on orders
Limited desire to restock at elevated prices, causing a "Buyer's Strike"
Economic slowdown caused by the emergence of Coronavirus Variants
Reduction and/or removal of domestic trade barriers
Political & geopolitical uncertainty
Chinese restrictions in property market
Unexpected sharp China RMB devaluation